K-ZERO Plate Carrier RANGER GREEN Agilite (8056rng)
Add to wishlist
About this product
Data sheet
Description
BRAND AGILITE
The K-Zero Plate Carrier is the most comfortable low-profile plate carrier on the market. It's the only plate carrier designed directly with both Israeli and US Special forces to fix all of the comfort and functionality issues with modern plate carriers.
On the K-Zero it has been designed into every area of it from the start. It comes with an included cable management kit. This gives you complete versatility and the ability to set up your cables, ptts and hydration tubes exactly how you'd like them.
For even heavier loads, the K-Zero is compatible with the Agilite Warfighter™ Cummerbund or any other hook and loop based cummerbund.
• Colore: RANGER GREEN.
• 500D CORDURA ® Mil Spec Tactical Nylon
• Proprietary Mil Spec hardware
• Kevlar® Coated Neoprene
• Laser-cut Squadron™ laminate
• Laser-cut Velcro ® MOLLE overlay panels
• Integral closed-cell comfort foam
• Weight: 1.74Lbs (0.79kg)
• Most comfortable low profile plate carrier on the market
• Placard-compatible
• Proprietary "V" design spreads weight over maximum surface from shoulders to center mass area to avoid pressure points.
The K-Zero has a one-size fits all cummerbund and will fit all body types and sizes perfectly.
The ONLY thing you need to size is the plate bag so it fits the armor plates you are planning to put inside of it.

Size MEDIUM: This size will fit most plates including 10x12, SAPI Medium or smaller.
Size LARGE: This is for SAPI Large plates or any large plates up to 10.30"x13.25".

*Plate bags will fit all plate cuts including: SAPI, ESAPI, Shooters Cut and Swimmers Cut.

Step 1: Measure the width, height and thickness of the ballistic plates you want to use inside your K-Zero Plate Carrier: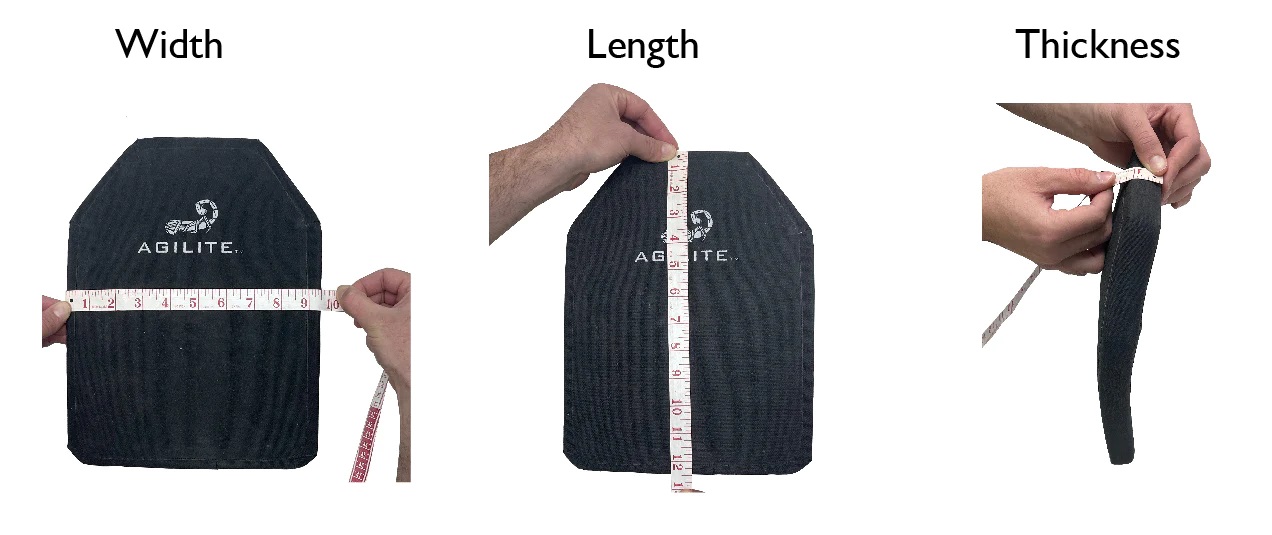 Step 2: Check what size K-Zero plate carrier your plates will fit into:
| | | | |
| --- | --- | --- | --- |
| Plate Bag Size | Maximum Width | Maximum Height | Maximum Thickness |
| MEDIUM | 10,2" (260 mm) | 12,6" (321 mm) | 1,25" (33 mm) |
| LARGE | 10,3" (261,62 mm) | 13,1" (335 mm) | 1,25" (33 mm) |