Electric Rifle M4 Airline MOD.A Metal Series Dark Earth Colt® (colt-180857)
Add to wishlist
Data sheet
Description
BRAND COLT®

M4 Airline MOD.A rifle.
METAL series version.
Color DARK EARTH.
Electric operation.
Firing mode: safe - single shot - full auto.
Fully Licensed COLT® with original logos on the body (Official Cybergun License).
Length 800 mm / 885 mm (adjustable).
Weight 3600 gr.

GENERAL CHARACTERISTICS:
Motor grip are made in POLYMER reinforced with glass fibers.
Body external barrel, silencer & rail are made of METAL.
Pins, dust cover & selector are made of STEEL.
Each replica has a unique SERIAL number marked on the body.
External barrel with 14mm CCW thread (left).
FLIP-UP sights.

SPRING CHANGE SPECIFICATIONS:
The replica features a quick spring change system that allows the user to replace the spring in less than 45 seconds.
All you have to do is remove the screw inside the stock tube to access the spring guide, this allows a quick and efficient adjustment of the replica depending on the conditions required for the game without having to enter the workshop or with special tools.

TECHNICAL FEATURES:
Metal gearbox with QD system.
Steel gears.
8mm steel bushings.
Reinforced polycarbonate piston, equipped with solid steel teeth to increase its strength.
Steel cylinder.
Robust mechanics allows working with springs up to M140.
Delayer on the sector gear for fast burst.
M90 spring from about 310FPS / 320FPS.
Brass inner barrel ~380mm.
Long shaft high torque motor.
Adjustable hop up ROTARY precision RED.
Rear wiring (Mini TAMIYA).

IN THE BOX:
M4 SPECIAL FORCES RAIL MINI rifle.
300bb HI-CAP magazine.
NIMH 9.6V x 1100MAH battery.
NIMH battery charger.
N.B. As per Italian law, the replica has RED tip.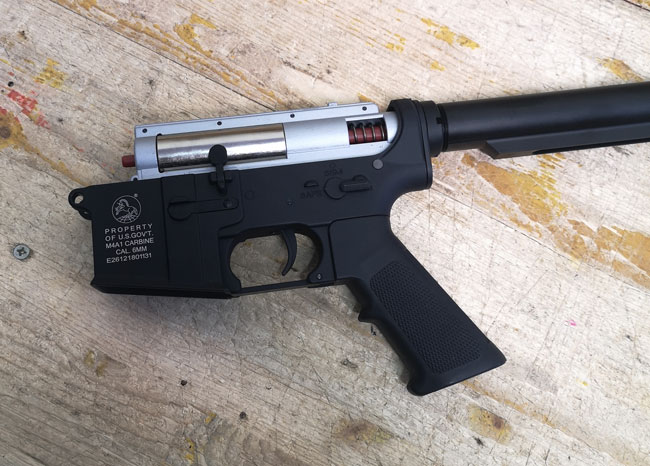 N.B. METAL version with reinforced gearbox.